Israeli extremists storm Al-Aqsa Mosque, expelling Muslim worshipers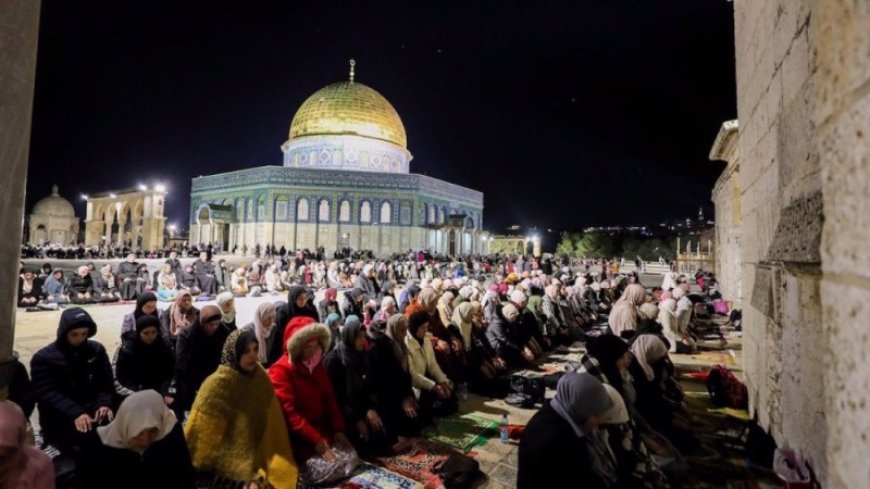 Al-Quds - Muslim worshipers were expelled from the holy Al-Aqsa Mosque when Israeli forces and extremists stormed the mosque on the fourth day of the holy month of Ramadan.
Video footage circulating online showed Israeli soldiers and extremist illegal settlers evicting Muslims from the holy site late Sunday.
The large groups of Israeli extremists - whose incursion on Sunday took place during the Muslim holy month of Ramadan - were under the protection of Israeli forces.
According to the Wafa news agency, the Palestinian Foreign Ministry called for forcing Israel to honor its commitments and "stop violations of holy sites in al-Quds, including the al-Aqsa Mosque, before it is too late."
The ministry called the Israeli attack on believers inside al-Aqsa "a serious escalation" and blamed Tel Aviv for the consequences.
Israeli police authorized the raid on al-Aqsa on orders from far-right Israeli minister Itamar Ben-Gvir. On Thursday, the first day of Ramadan, nearly 300 extremists raided the site.
The head of the Supreme Islamic Committee in al-Quds, Sheikh Ekrama Sabri, warned against a campaign against the mosque. He said the campaign began late Saturday with the desecration of the Al-Qibli prayer hall and called for a rally around al-Aqsa and stronger defenses at the compound.
Sheikh Sabri pointed out that Israeli soldiers are attempting to remove worshipers from the holy site in order to open the way for illegal Israeli settlers to storm the mosque and carry out their acts of violence and desecration.
Many Palestinians have called on believers to break their fasts in the courtyards of Al-Aqsa Mosque and pray inside the mosque during Ramadan.
One of their goals is to increase the presence of Palestinians in the mosque during the holy month to reassert their right to al-Aqsa Mosque and the city of al-Quds in the face of repeated settler raids.
In previous years, there have been clashes between Israeli forces and Palestinians during Ramadan, particularly around the compound of Al-Aqsa Mosque, Islam's third holiest site.
What's Your Reaction?