What to expect from tomorrow's French pension strike?
The French government seeks to raise the retirement age for a full pension from 62 to 64 years old in order to allegedly ensure the country's pension system's long-term viability in the face of an ageing population. Furthermore, programmes that financially aid many professional groups would be abolished.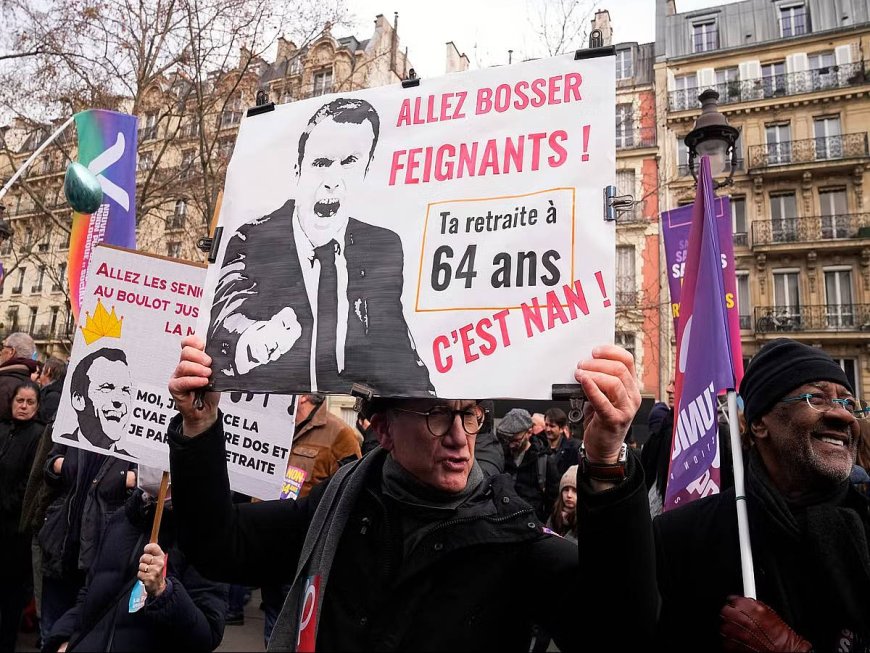 Massive protests erupted across France as Macron prepared to deliver his controversial pension changes to the French parliament.
Tens of thousands of French protested the Macron administration's proposal to overhaul the pension system in various cities throughout the country for the fourth time on Saturday. The next demonstration is set for Thursday, February 16th.
According to the French Ministry of the Interior, more than 960,000 people marched in Paris, Nice, Marseille, Toulouse, and Nantes. Protesters hope that by drawing attention to it and putting pressure on the Macron administration, they can convince right-wing officials at Élysée Palace to abandon their exploitative schemes to raise the retirement age.
Official estimates put the number of demonstrators in Paris at 93,000, making this the largest turnout in France since the protests started a month ago. On Saturday, demonstrators set fire to a vehicle and several rubbish bins, prompting police to deploy tear gas and arrest three citizens.
During a Saturday protest, Jean-Luc Mélenchon and the leaders of the socialist group "La France Insoumise" accused French President Emmanuel Macron of making everything disgusting, degrading everything, and lowering the quality of everything with his policies. "Curse you, you who want to make everything a commodity," Mélenchon exclaimed, referring to Macron.
What is certain is that Macron's pension agenda is primarily intended to reduce government spending; however, he called these reforms "essential" to ensuring the pension system's sustainability.
To exacerbate the economic plight of millions of French citizens, Macron has pledged to increase the French military budget through the end of 2030, presumably in response to Russia's special military operation against Kiev's regime.
If approved by the National Assembly, the military budget will be 400 billion euros from 2024 to 2030, with an additional 13 billion euros coming from the sale of public assets. The previous government budget for 2019–2025 allotted 295 billion euros for the military, making the recent rise equivalent to a 40% increase.
By: F. Najafi
What's Your Reaction?